From the Desk of the Principal, Mrs. Kim Williams...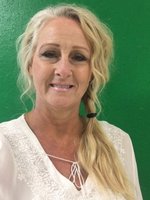 Kim Williams, Principal
Greetings from the principal's office. My name is Kim Williams, and I am honored to have been given the opportunity to lead the wonderful staff here at Gold-Burg ISD. It has been a busy summer, and we are gearing up for another exciting school year. My husband, Gordon Williams, has also joined Gold-Burg ISD as the new Athletic Director and boys' coach. Gordon is returning to Gold-Burg ISD after having coached here for six years during the mid '90s. We are both delighted to be here, and we are looking forward to a successful school year.
Gordon and I have three children, Heath and Jensen, who are both educators, and Dane, who has recently graduated from high school. Heath is married to Valerie, and they will be living in Bowie. Heath will be coaching at Montague, and Valerie will be teaching kindergarten at Bowie Elementary. Jensen is married to Jake Mataska, and they live in Decatur. Jensen is a teacher but stays home with our beautiful grandson, Miles Eli, who just turned one. Her husband, Jake, is a Denton fireman and paramedic. Dane will be entering college in the fall.
I graduated from Bowie High School in 1983 and obtained my bachelor's degree in education from Texas Woman's University in 1988. I taught until 2010, at which time I earned my master's degree in Education Administration from Lamar University and became a principal. My teaching experience ranges from kindergarten to high school coaching, music teacher, technology, ESL, science, art, numerous other assignments and of course, administration. I believe that all of these experiences have provided me with the tools needed to lead a successful district with pride and excellence.
Our entire staff is dedicated to providing students with a rigorous and enriching curriculum that will not only prepare them for the next grade level but also empower them to enter the 21st century workforce, tech school, or university. When you have a chance, let your child's teachers know how much you appreciate their time and effort in educating our youth. Thank you for supporting the entire Gold-Burg staff. It takes all of us working together to have a great school!
Finally, I will be utilizing three forms of communication in order to keep you informed about upcoming events and pertinent information.
1. I will send out Friday newsletters most of the time. This will go home in paper form and will also be emailed to parents.
2. You can join my parent email list. We will send home a form at the beginning of school for this purpose, but you can email me anytime at kim.williams@esc9.net, and I will add you.
3. Last, you can join my GB Parents "Remind" group to receive text messages with important reminders and timely information. To join, simply send a text message to 81010 with the message @gbparen. You will receive a welcome message when you join. It will also be helpful to download the Remind app to your phone.
I am looking forward to meeting each one of you and getting involved in all of our extra-curricular activities. If you ever have any concerns, please don't hesitate to come by or call the office at 872-3562, and I will assist you with anything you need. You can also email me at kim.williams@esc9.net.
Thank you in advance for your help and support and also for the opportunity to contribute to the education of your child.
Here's to a wonderful school year,
Kim Williams